The marketing committee here with a May update on the website/rebranding reboot.
OSGeo has been the home of the open source geospatial community for over ten years. Over this time we have grown and matured as the industry and ecosystem has evolved. In 2016 the OSGeo board held a face-to-face meeting highlighted the website tool to improve communication. In 2017 the marketing committee was given an exciting initiative to rebrand and redesign OSGeo and our affiliated properties.
The website/rebranding project is slated to produce 3 sets of output:
An updated set of branding for our organization and its sub-brands which will be delivered as a standard online organizational brand style guide;
A new website theme and focus heavily oriented toward onboarding new users (providing guidance toward an appropriate set of software for their needs);
A set of digital templates and collateral for print marketing materials.
For details check the Expression of Interest document and OSGeo project page. You can track our weekly meetings online.
Sponsors: This initiative is funded by OSGeo with the help of sponsorship – thanks to our key sponsors GeoCat and Boundless for making this possible. We would like to welcome Boundless as a new key sponsor; and acknowledge how2map for their support.
Volunteers: Thanks to Peter, Helena and others who responded to our call for volunteers in April. These individuals are providing a much needed GeoForAll and Local Chapter perspective. OSGeo is a large organization and there will continue to be opportunities to help in the months ahead. If you feel that your voice is not being represented please speak up on marketing committee mailing list or contact a committee chair or board member.
A new Look for OSGeo
We are getting close to our first milestone and we can preview some of the incredible work done with our vendor Get Interactive and community feedback.
Branding was developed with a series of logo proposals, built up around our goals, using our current logo as a starting point. The logos were arranged in order from Traditional through to Revolutionary – and we universally preferred the middle ground sophisticated option.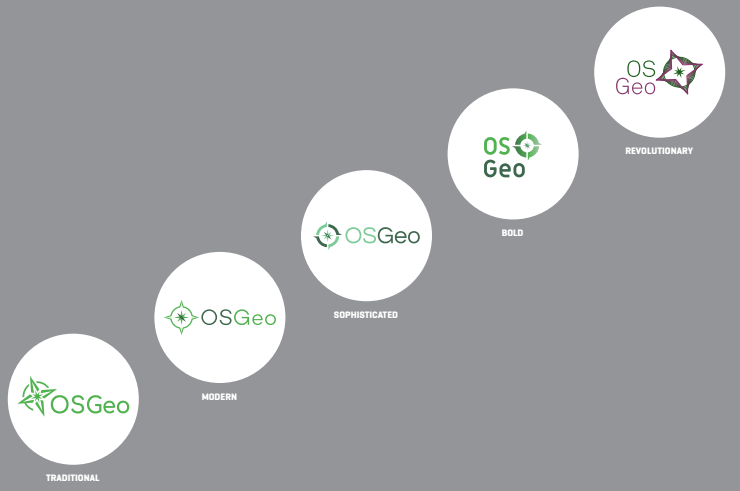 The next phase refined the fonts and colours used. There was a lot of feedback on colour choice, with an effort made to preserve the green used when making sub brands (like committees and local chapters). It was also a priority that the font selected was free to use – previously OSGeo required volunteers to purchase a font when making sub brands.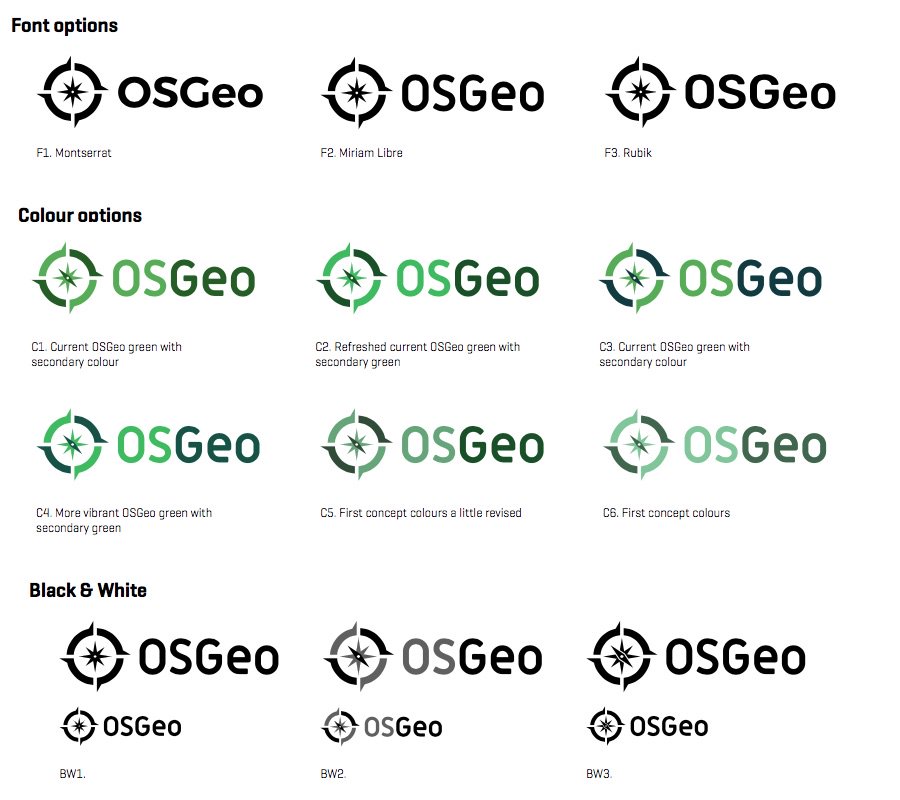 One trick that was particularly effective was seeing the new proposals in context with others from our industry. The result is clear, stands out, and is approachable – a great new look for OSGeo.
Creating new branding is always a challenge, we would like to thank everyone who took part in the progress. Especially those who provided their feedback and encouragement.
Branding and Collateral
The full logo, color and font choices will be available shortly as part of a branding guide. We have a preview of the branding color and font choices while we wait. We would like to encourage local chapters and committees to play with these design concepts in time for the FOSS4G Boston event.

The initial example with contour lines, and resulting conversation on discuss@osgeo.org, gave the graphic designer a great idea – an opportunity to personalize each template for your project, community or event.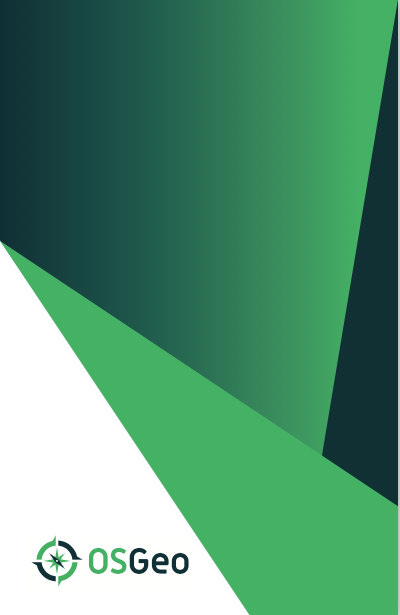 Each template will provided as SVG with a layer for you to insert a map or photograph as shown below. See the sketches and the preview for further examples.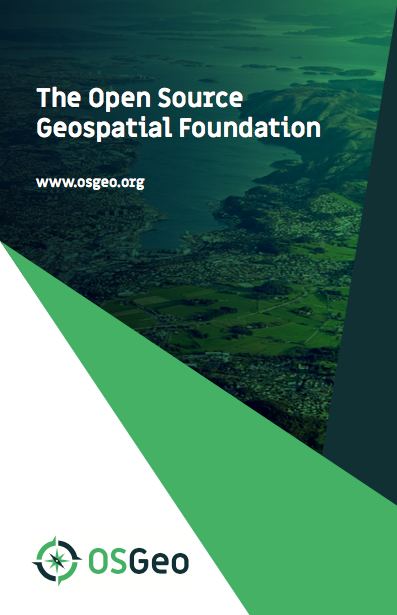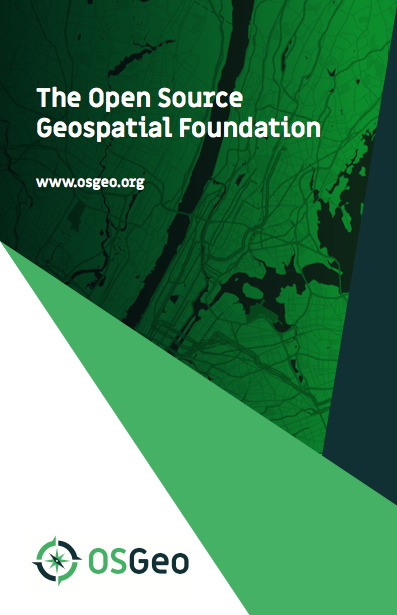 Website Content and Wireframes
The next exciting thing we are working on is wire frames for the new website. These are produced in conjunction with a visitor journey spreadsheet highlighting what kind of visitors we expect, what we would like to communicate, and what content is required.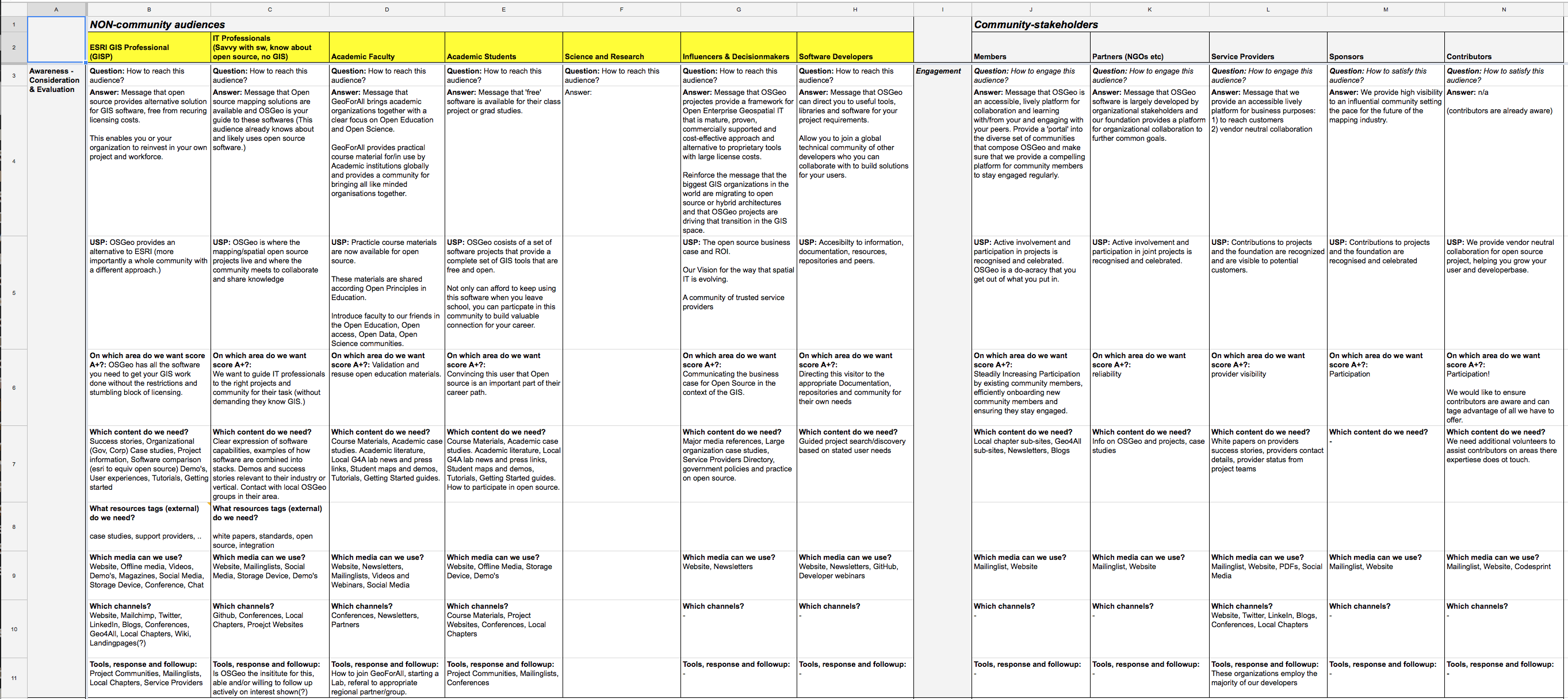 Wireframes are captured in a tool called InVision, allowing our volunteers to provide feedback and sort out content and story questions visually (because spreadsheets are no fun for anyone).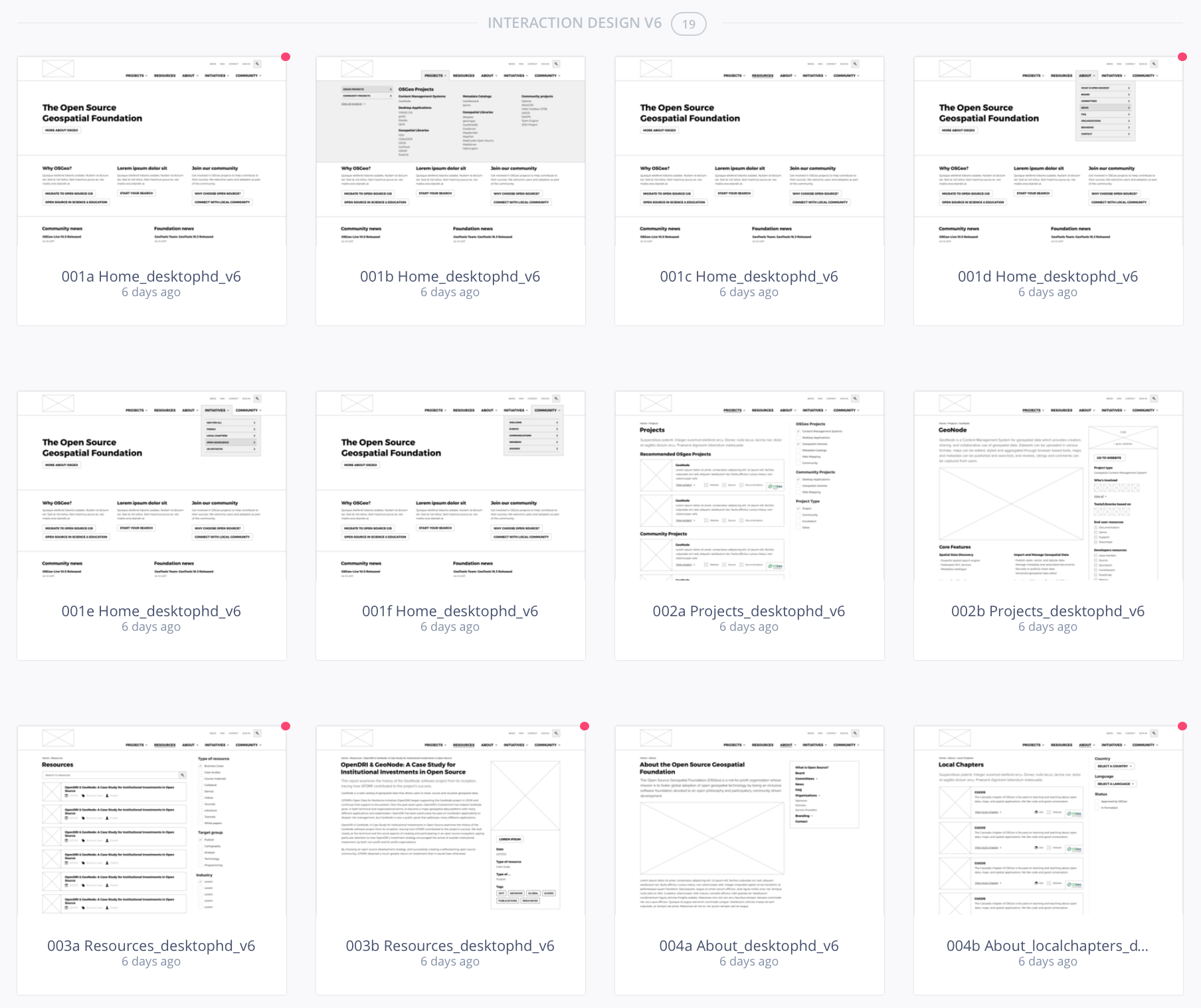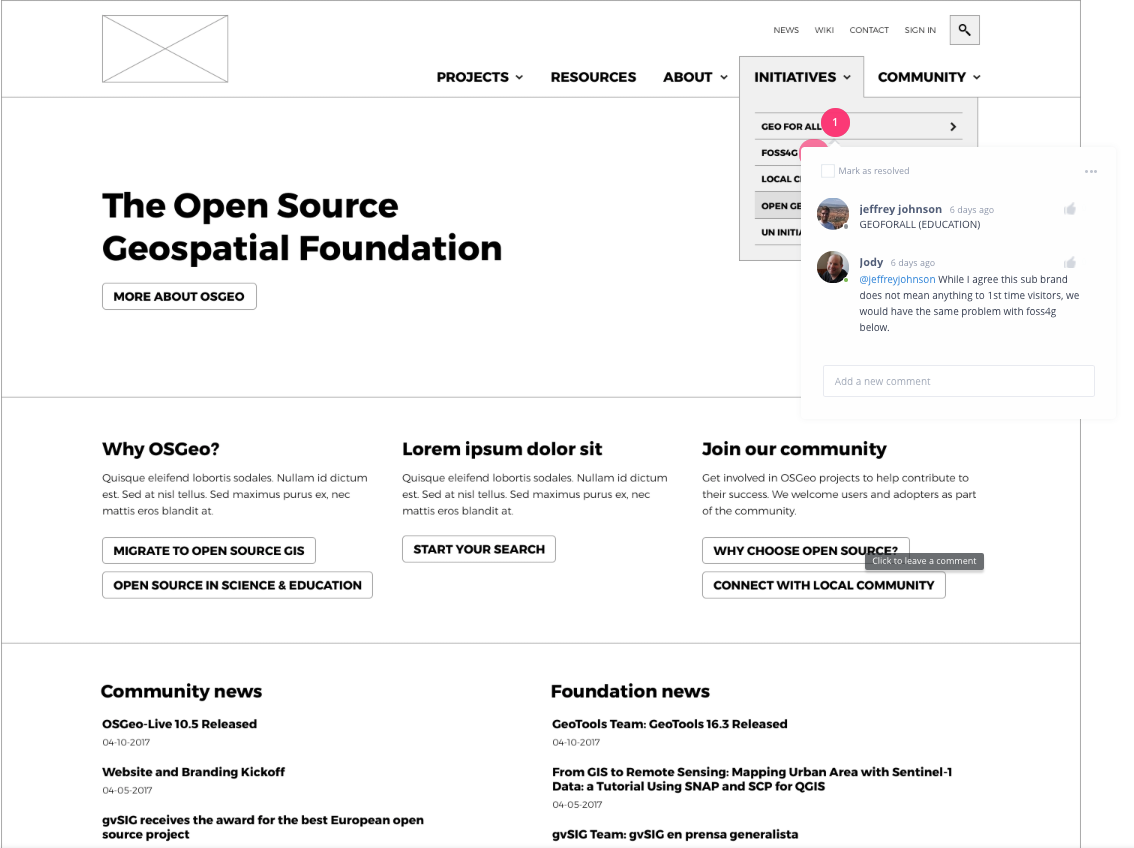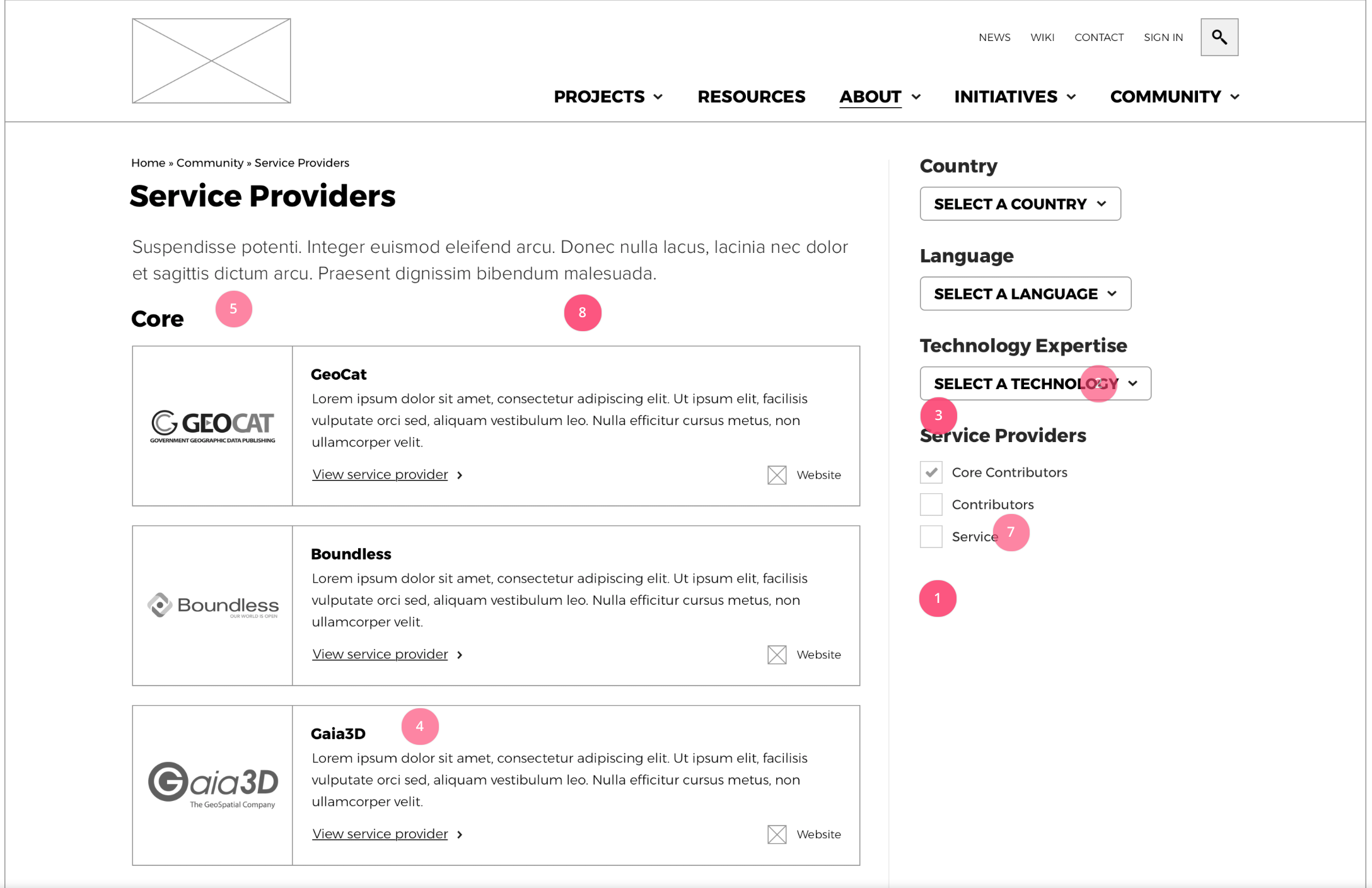 Choose a Technology: Building on the choosealicense.com example, Jody Garnett has outlined a guide for GIS Professionals looking to discover an appropriate open source project for their task at hand. This provides a task based intro to open source listing both OSGeo and community projects.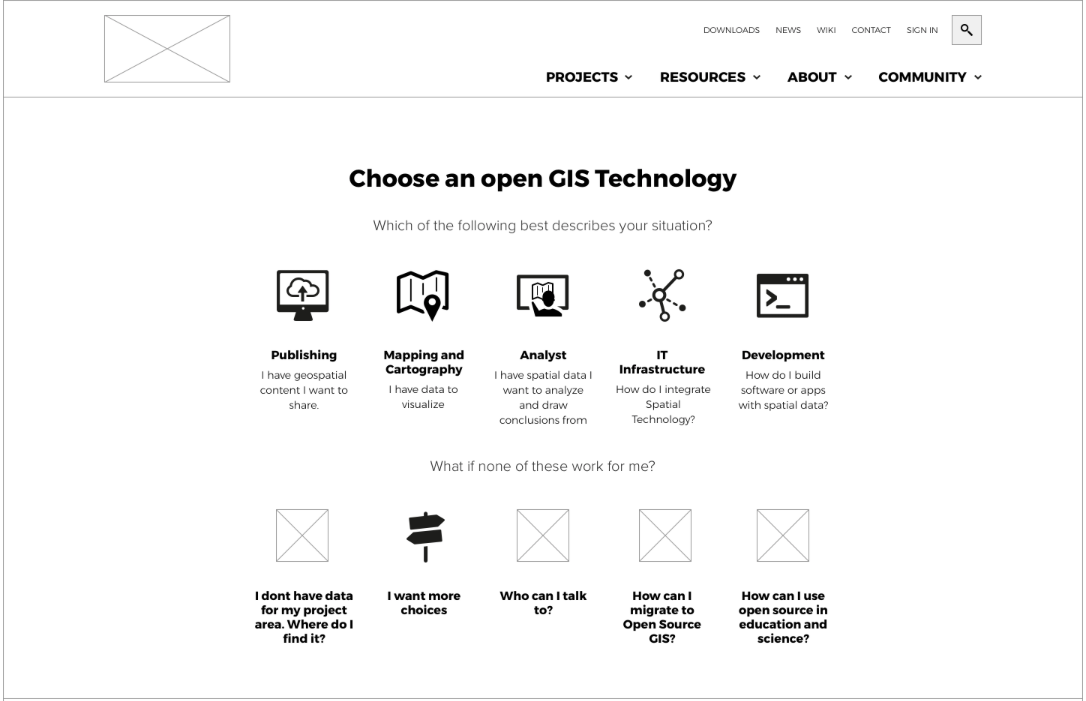 Structured data collection: In collaboration with the OSGeo Live project Jeffrey Johnson and Cameron Shorter are looking at collecting details on projects, service providers and resources using structured about.yaml files (see github about.yaml for the specification)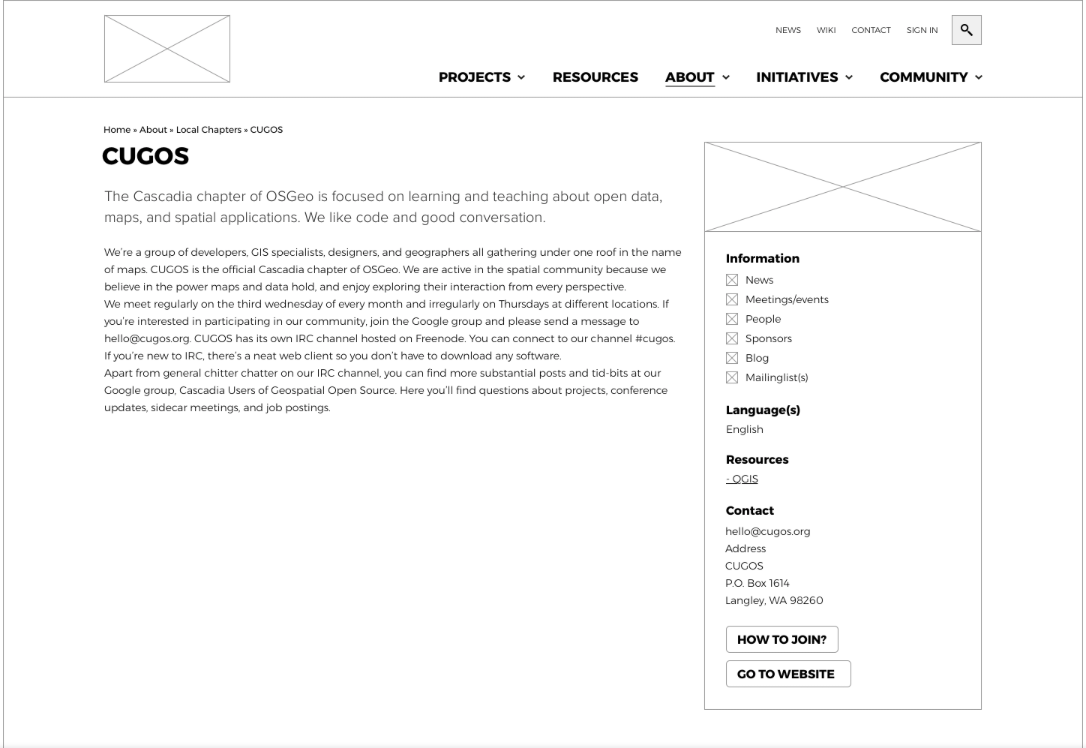 Resources: Our initial take on visitor journeys highlighted how much information is required to reach new users. Much of the material expected by this audience, such as case studies, has not been available for open source solutions in a consistent up to date fashion. We have decided to focus on the content our community does produce – making sure the website can list resources such as documentation, presentations and conference videos.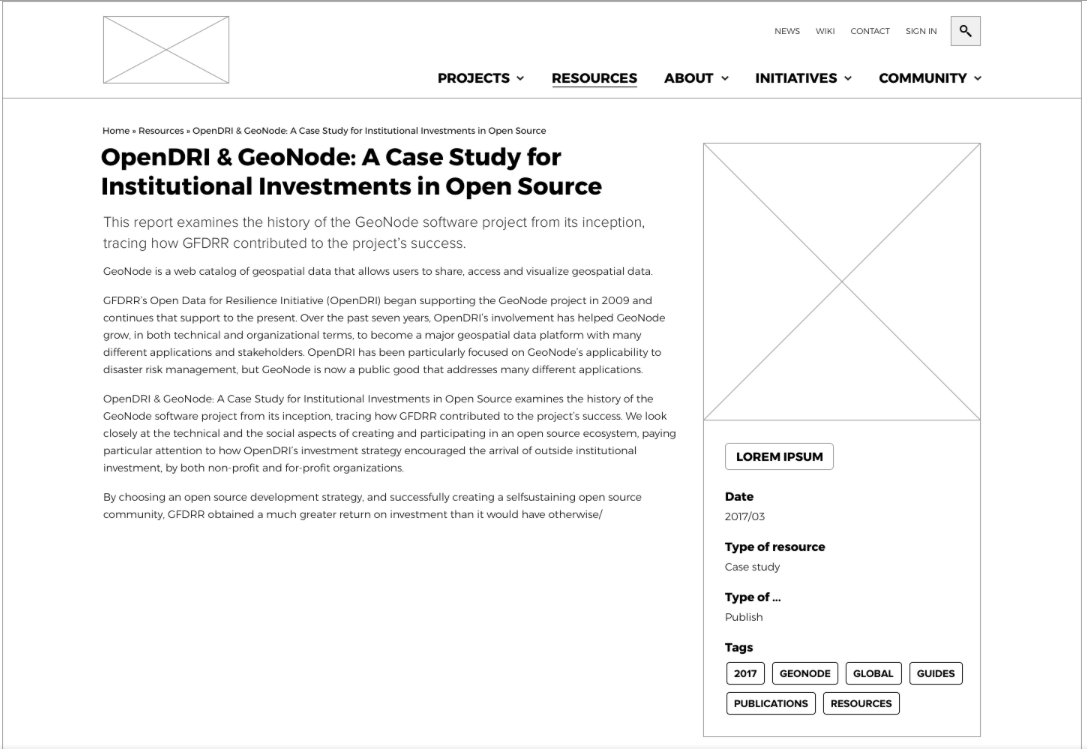 Working Together
If your organization is in position to financially support this activity please check our webpage for details. Several sponsorship opportunities are available: Key sponsors are acknowledged in each blog post and update. Sponsor logos are used in our wireframes. And Supporters are thanked publicly in a monthly blog post.
Thank our community volunteers for helping with content: Peter Mooney (GeoForAll), Helena Mitasova (GeoForAll), Cameron Shorter (OSGeoLive), Harrison (SAC), Gert Jan (Local Organizations). Thanks marketing chair Marc Vloemans and volunteers Jody Garnett and Jeffrey Johnson for consistently attending meetings armed with content and encouragement in equal measure.
See you at FOSS4G and FOSS4G Europe
A presentation on "OSGeo Website/Rebranding" has been accepted for FOSS4G-Europe. We hope to see you there.
For a hands-on experience join us at FOSS4G Boston for an content provider / editors bootcamp. We invite members from each community to attend – and learn how to use this new tool for outreach.