I am extremely delighted to share my experience of FOSS4G-NA 2019 event, held in San Diego, CA. I felt really fortunate and greatly honored to receive a travel grant from the organizers. The first impression of the event was great! It was held near the bay with exotic views along the promenade. The event was sponsored by HERE, Radiant Solutions, AWS, ESRI and so on.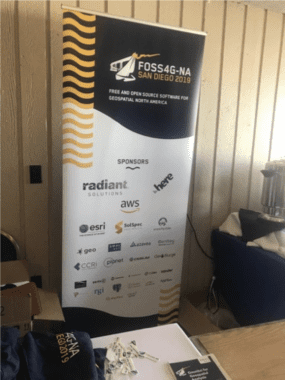 FOSS4G – This conference provides opportunities for the FOSS4G community to learn, explore, share and collaborate on the latest ideas and information. The community attracts over 500 geospatial practitioners to give and receive specific technical issue or to generate business opportunities. Excitement and energetic geospatial people and web developers running here and there to attend technical sessions. I loved the energy of the conference and making new contacts!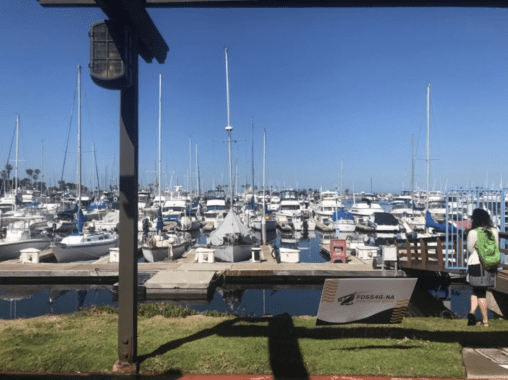 I was extremely impressed by the many individual groups presenting new technologies and ideas, with awesome excitement and phenomenal enthusiasm! After attending this geospatial conference, it became apparent that new technologies and processes will help revolutionize maps.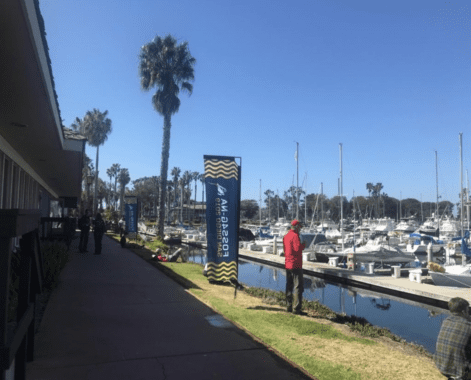 Presentations
SOME PRESENTATION
HERE Maps was everywhere with XYZ technology
ESRI: Fast Compression of Scientific Images and Tensors, Let's take the machines House Hunting, an open standard to bring 3D to Web, Desktop and Mobile platforms
Critical Data visualization: Sharing experience and case studies of Visual arm exported by US from 1950 to 2017, Arm sales USA vs USSR 1950 to 2017, Election interface by US and USSR/Russia from 1946 to 2000
GEOINT Application Provider Program
Syncarto: Map together cloud native collaborative mapping with voice and chat
Spatial Current: Finding hidden feature: Advance POI search in OSM
Camp to Camp: Open layer version 6.0
Melown Technology: An OSM-based 3D street Map of Earth etc.
Exhibitors
BOOTHS
HERE Maps
ESRI
CESIUM
Planet
Crunchy Data
Postgre SQL
SolSpec
HERE : Map and manage your data – HERE maps presented a new HERE Maps XYZ technology during the first day of conference; I attended two events of HERE map conference and demos were great. HERE XYZ is a cloud based, real time location data management service for developers and map makers to build custom maps and manage location data. Presented at demo booth: Boston liquor licenses, Car breaking, Street light of City.
HERE also discussed how they generate data in terabits, how millions of community members also contribute every day, map creator tool and review content of data. HERE also talks about how tools are easy and free of cost.HERE also discuss about XYZ studio:
Studio is web application for uploading, editing and viewing data and makes custom maps. No coding is required and publishing and sharing maps on website is easy and cool.
HERE XYZ hub: It's a developer friendly API's and CLI to manipulates and manage location data or integrate with third – party tools like QGIS. GeoJSON friendly and publicly available data. Again, it's a cloud-based location data services for storage, rendering and visualization.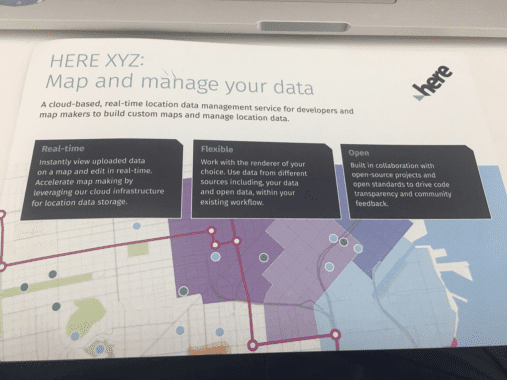 ESRI: Participated in FOSS4G-NA as a Silver Sponsor. At the event, ERSI discussed projects and engaged with thought leaders in the geospatial community. ESRI shared their work with Python & Jupyter Notebooks, low-level FOSS libraries like LERC for raster compression, and the OGC community standard I3S
SOME OF ESRI DEMOES & TECHNOLOGY:
ESRI recently updated developer offerings, which provide cost-effective, powerful tools to build location intelligent apps: Hosted OSM vector base-map that can be styled and used for free with no usage limits in non-commercial apps. ESRI also demoed GeoJson support showcased in this video – Compression methods typically fall into one of two categories, lossless or lossy. Regular 2D pictures or photos such as vacation pictures are most often JPEG compressed. They only need to look good, the encoding error per pixel does not matter and can be large. On the other hand, if the data is scientific, medical, or of any other more serious nature, arbitrary large encoding errors per pixel are usually not acceptable. Then people switch to lossless compression. However, with larger pixel depth data such as floating point or 16 bit integer data, lossless compression methods often result in poor compression performance.
ArcGIS API for Python, an interoperable API for mapping and spatial analysis: Showed "house hunting" and "feature extraction" sample notebooks, as well as the ability to create map- based visualizations from Data Frame.- One of the fundamental questions in real estate is the question of 'where'. Numerous studies indicate the place you live can impact a multitude of wellness factors, including, your life expectancy. Home buyers try to weigh several factors such as cost, the distance to major facilities, noise, air quality, community, neighborhood, school district, risks due to natural calamities etc. while looking for a place to live. Such analysis is not limited to just house hunting, business analysts and entrepreneurs run a similar multi-criteria analysis for a multitude of problems such as finding a suitable spot for a new grocery store, dentist office, coffee shop, etc.
link – visualizing data with the spatially enabled dataframe
OGC I3S spec for streaming massive amounts of heterogeneous geospatial data. Discussed how companies are using this spec and looked for community feedback. ESRI also shared some of our implementations, for example building, point cloud, and 3D object samples built with our JavaScript API, as well as integrated mesh and multi-patch samples with scene viewer.
Hundreds of other open source projects on GitHub: o Discussed Koop, a Java geometry engine, and Terraformer.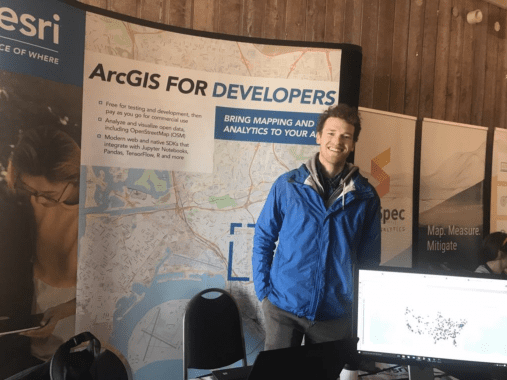 CESIUM – Discussed new 3D maps, geospatial mapping and analysis, and new standard of 3D. Tom Fili presented Driving Simulations for Autonomous Vehicles with 3D Tiles and Cesium, Sarah Chow talks about Drone Data Capture – "Drone Deploy hosts the world's largest drone data repository, with data covering more than 30 million acres and on 400,000 job sites. Their app, custom built on Cesium's robust API, uses Cesium JS and Cesium ion's 3D tiling pipeline to efficiently visualize massive 3D models and point cloud datasets" Drones use for Traffic Management and site management. Their Cesium JS-based 3D map has a resolution up to 1 cm/pixel. Users can fuse orthophotos, high-resolution terrain, point clouds, and contours, make measurements directly on the map, and compare data captured over time.
California wildfire by Cesium – Cesium also touches the topic of California wildfire from space share 2018 California wildfire statistics about 8054 total fires, burned over 1.8 million acres and cost over $11 billion and lives of 86 people .data requirement for wildfire, data sources like NASA firm for fire management system, NOAA Meter for current wind conditions and USGC GeoMac for historic fire perimeters.
PLANET -Planet showcase that they capture 1.2 million 29 MP images every day and covered 250 million km sq./day (i.e. more than 2 times the total landmass of earth). Planet also deployed 331 satellite from 10 rocket types 10 sites in seven countries with 49 ground station antennas and downlinked 6 TB data/day.
The GeOINT App store –  Government version of iTunes and Google Play, established in 2013. Government versions of Apple/Google app. National Geospatial, an Intelligence Agency (NGA) – GEOINT App Store: NGA created the app store called GEOINT App Store for thousands of users in the U.S department of Defense and Intelligence Community.
CAMP TO CAMP – talks about Open layer Version 6. The next release uses more vector maps, which produces faster rendering (without image and style) and how they investigate vector type performance improvement and threats (i.e. lots of traffic).
SOLSPEC AERIAL ANALYTICS – "Analyze your projects' physical geography. Deliver quantitative insights. Solve vulnerabilities before they become problems". Analytics to prioritize risk for large scale land use projects with 3D model, provide solution for oil and gas pipeline companies. SolSpec Launches Landslide Prediction Models that Prevent Pipeline Explosions.
Reference:
Thank You
Lastly, I want to thank the organizer, event manager, sponsors and volunteers for putting together such a fantastic event. It was a great learning experience and I hope to attend future conferences.
About me – I am Tina Nanda, Geographer and an Author of Urban sprawl and occupation change in Raipur city, India.  I worked in the geospatial industry for more than 10 and served as Mapping specialist and Business Development. You can email me at tins.arora@gmail.com.