Geography Awareness Week is an opportunity to bring attention to the need for educational policies that will increase geographic literacy for everyone [1]. Geographic Information Systems (GIS) are important tools that have the potential to greatly improve  geographic literacy for everyone.   Geographic Information Science is an important contributor to the advancement of human knowledge, as well to solving so many societal challenges. Though there has been huge advances in Geographic Information Science and Systems over the the last few decades, the benefits of Geospatial education and entrepreneurship opportunities were very limited for economically poor students and communities.
GIS was an expensive technology and hence many economically poor students and communities did not have access to this for many decades.  This has now changed . The last decade has seen a rapid growth in free and open source geospatial software , open data and open education developments which has now made geospatial software ,education and entrepreneurship opportunities opportunities available to all. Open principles in education (open educational resources, free and open source software, open data, open standards etc) are  a big enabler for  making geographic literacy, geoeducation and entrepreneurship opportunities accessible to all.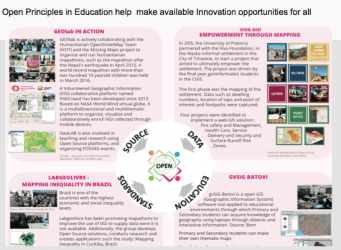 Thanks to all our amazing colleagues globally, we have now truly made GIS education and
digital
economy 
opportunities open to all.