This event drew the attention of delegates and experts from the region, who engaged in an exciting dialogue about promoting sustainable and accessible approaches to address geospatial challenges.
The meeting focused on the importance of making the implementation of the Integrated Geospatial Information Framework (IGIF) accessible and sustainable, highlighting the crucial role of open-source technologies. Experts shared their perspectives on how these technologies can revolutionize the use of geospatial data, democratizing geospatial information.
One of the central themes addressed was the sustainable implementation of the IGIF. Participants engaged in exciting discussions on how open-source technologies can ensure the economic viability and long-term sustainability of this framework, highlighting open-source solutions as the path to democratizing geospatial information.
The integration of statistical and geospatial data in an open-source environment was another point of focus. Specialists shared strategies and use cases that demonstrated how open-source technologies can promote greater collaboration and enable the use of enriched data for informed decision-making.
The event also explored the fundamental role of geoinformation and open-source technologies in disaster management and decision-making. Those with expertise in the field presented concrete examples of how these technologies can make a difference in emergency planning and response.
Emphasis was placed on the importance of spreading and promoting the use of open-source technologies among the member countries of UN-GGIM-Americas, as this approach not only fosters technological innovation and collaboration but also ensures accessibility and efficiency in geospatial initiatives.
The event concluded by highlighting the power of Open Source Technologies in Geospatial Information Management. Collaboration and knowledge exchange among experts and participants promise to drive more effective use of geospatial information in various applications, from urban planning to disaster management.
We hope that this inspiring vision continues to be a source of innovation and collaboration in geospatial information management in Latin America and the Caribbean.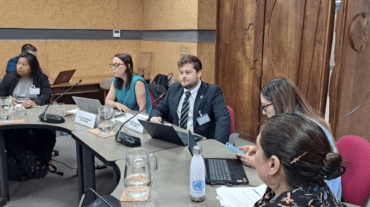 Presentation at the Side Event on "Open Source Technologies for Geospatial Information Management and Their Role in the Implementation of the IGIF."