We are pleased to share the  the launch of Open Source Geospatial Lab at the Pete Fisher Laboratory for Geocomputation at the University of Leicester, United Kingdom . The launch of the Open Source Geospatial Lab at the Pete Fisher Laboratory for Geocomputation  was formally announced by The President and Vice Chancellor of University of Leicester Professor Paul Boyle at the 26th annual GIScience Research UK conference  on 18th April 2018.
The laboratory is dedicated to the memory of Professor Peter Fisher, who held a personal chair in the Department of Geography, University of Leicester. Pete's career was truly exceptional for many reasons not least because he was one of the people at the helm of what became known as Geographical Information Science (GIScience) as it emerged out of a diverse range of disciplines such as computational and automated cartography in the early 1990s. Pete's research is best known for his extensive work on uncertainty, especially fuzzy sets. Pete was also editor of the disciplinary journal, the International Journal of Geographical Information Science, from 1994 to 2007.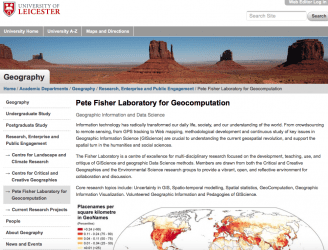 The Fisher Laboratory is a centre of excellence for multi-disciplinary research focused on the development, teaching, use, and critique of GIScience and geographic Data Science methods. Members are drawn from both the Critical and Creative Geographies and the Environmental Science research groups to provide a vibrant, open, and reflective environment for collaboration and discussion. Core research topics include: Uncertainty in GIS, Spatio-temporal modelling, Spatial statistics, GeoComputation, Geographic Information Visualization. Volunteered Geographic Information and Pedagogies of GIScience.
The  Pete Fisher Laboratory for Geocomputation will become part of the global network of over 100 GeoForAll research laboratories world-wide (more details at the initiative's website http://www.geoforall.org/ ). This is in recognition of the lab's on-going use and development of Free and Open Source GIS technology, open data in teaching, research and consultancy.  The lead academic for the Lab will be Dr Stefano De Sabbata. Please email Stefano at s.desabbata@le.ac.uk for collaborations.
More details will be published at
https://www2.le.ac.uk/departments/geography/research/fisher-geographical-information-and-data-laboratory
The Open Source Geospatial Lab  at the Pete Fisher Laboratory for Geocomputation will be a guiding light for Open Principles in Geo education and research globally…It will help spread the importance of kindness and sharing values to help create a world that is more accessible, equitable and full of innovation and opportunities for everyone.
The Open Source Geospatial Foundation (OSGeo) is a not-for-profit organisation founded in 2006 whose mission is to support and promote the collaborative development of open source geospatial technologies and data.