We are honoured to announce that Howard Butler is the recipient of the Sol Katz Award 2023.
Howard Butler has a long-standing history of involvement within our community. He was an OSGeo board member and was involved in the early years of the System Administration Committee. Howard is also a member of the project steering committee of 4 different OSGeo projects.
He is an excellent leader, a mindful developer and a valued friend. You will meet him everytime a codesprint is organized.
Howard was part of the group which came with the GeoJSON specification.
Howard Butler has organized the modernization of the documentation of GDAL and PROJ. He was the instigator of the GDAL Barn raising to enhance and refresh the geodetic capabilities of the projects.
Howard Butler leads the open source software consultancy Hobu which focuses on LiDAR, point clouds, and geospatial software. He is the proponent of COPC, the cloud optimized point cloud format.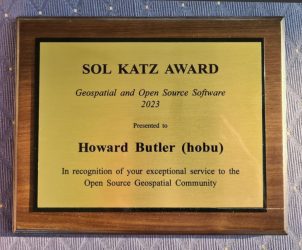 As Howard Butler was not present at FOSS4G in Prizren he prepared an accectance speech.
About the award
The Sol Katz Award for Free and Open Source Software for Geospatial (FOSS4G) is awarded annually by OSGeo to individuals who have demonstrated leadership in the FOSS4G community. Recipients of the award have contributed significantly through their activities to advance open source ideals in the geospatial realm. The award acknowledges both the work of community members, and pay tribute to one of its founders, for years to come.
Read more about Sol Katz at Awards