Congratulations to Professor Helena Mitasova on her winning the 2018 Waldo-Tobler GIScience Prize given by the Austrian Academy of Sciences through its Commission for GIScience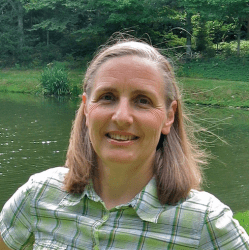 Prof. Mitasova has made significant contributions to the methods and tools of Geographic Information Science over several decades documented by an excellent publication record. Geovisualisation, geostatistical and geospatial analyses, eg in the field of spatial interpolation and topographic methods today implemented in the GRASS open source environment are freely available for practitioners worldwide. She is an active member of the Open Source Geospatial Foundation, recognized by the 2010 Sol Katz award for exceptional Open source geospatial community service.  Helena is the co-chair of GeoForAll and leads the GeoForAll lab at North Carolina State University.
Congratulations to this recognition of innovation, leadership and excellence. Prof Mitasova is an outstanding role model for next generation leaders in the geospatial sciences, and we are honoured to highlight her contributions in particular in the spirit of Open Science.
Details at https://gi-science.blogspot.co.uk/2018/04/helena-mitasova-awarded-2018-waldo.html