As part of the  World Commons Week,  there are a multitude of local events organized in different parts of the world, and particularly in Europe, all dedicated to raising awareness about the scholarship and practice of the Commons in many thematic areas, including water, forests, fisheries and marine settings; the global atmosphere; infrastructure, urban and rural areas; technology and software; and knowledge sharing and co-production.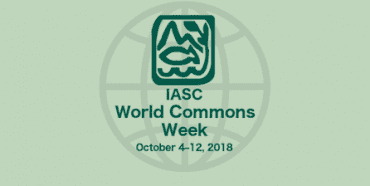 On October 12, there will be a 24-hour marathon of webinars with speakers spread across the globe each presenting on various Commons topics at noon-time in their time zone.  Check the list of speakers and make sure to book your calendars for joining those you are interested at  https://www.worldcommonsweek.org/webinars.
Please see more details at
https://www.iasc-commons.org/world-commons-week-kicks-starts-today-on-october-4-2018-possibilities-to-join/
We thank Prof. Charles Schweik (UMass Amherst) who is main organiser of the 24 hours of global noon-hour webinars.
It is very good that OGRS Community is also meeting this week  to focus the discussion on the topic to promote, discuss and find pathways to put Open Science in Action. Details at http://2018.ogrs-community.org
We wish everyone a very productive week of celebrating the commons scholarship and practice.