GeoForAll community are grateful to all LOC volunteers of FOSS4G 2019 [1] for making possible  the live streaming of all 11 parallel tracks and the plenary sessions at   http://streaming.media.ccc.de  and https://www.youtube.com/channel/UC_2Lyc9VUX-jC-E1prJitHw
Each talk will be recorded and published in the week following the conference and made available at TIB AV-Portal.
Following the established tradition of FOSS4G conferences, at the 2019 edition , an Academic Track ran in parallel with the General Track.  Thank you to the chairs Andreea Florentina Marin (University of Bucharest, Romania) and  Maria Antonia Brovelli ( Politecnico di Milano, Italy), all members of the Academic Committee, reviewers and authors for making this possible. This is great contributions for expanding Open Geospatial Science.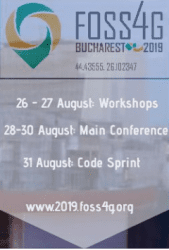 Details of all accepted academic track papers at https://www.int-arch-photogramm-remote-sens-spatial-inf-sci.net/XLII-4-W14/
The full schedule and timings of the various sessions at https://2019.foss4g.org/schedule/full-schedule/
We look forward to welcoming you and invite your contributions for bridging the Geospatial Digital Divide [2].
[1] https://2019.foss4g.org/about/committees/
[2] /foundation-news/please-share-geoforall-teaching-research-resources-colleagues-students/