Even took over the title of "Mister GDAL" after Frank Warmerdam passed him the torch. GDAL is a cornerstone of many GIS software both open source and proprietary.
He is an active contributor to GDAL, MapServer, PROJ, libgeotiff, GEOS, QGIS and many other projects.
Even is a highly productive OSGeo contributor. Sol Katz is not about numbers, but Evens stats are quite impressive: over the last 5 years, he has over 10,000 commits to multiple OSGeo projects.
(Ref: From 2014 to 2019: 10,900 commits to GDAL, 300 in MapServer, 400 in QGIS, not counting his recent refactoring of PROJ6, and his contributions to other OSGeo projects)
If you do the maths, that's more than one commit per hour on a full time annual average of 8 hours per day.
We're not even counting his support emails on the user mailing lists. That makes you wonder if he ever sleeps.
Even is a brilliant developer and also a really nice person. He cares about OSGeo as an organization, about the goals and the way OSGeo runs its activities.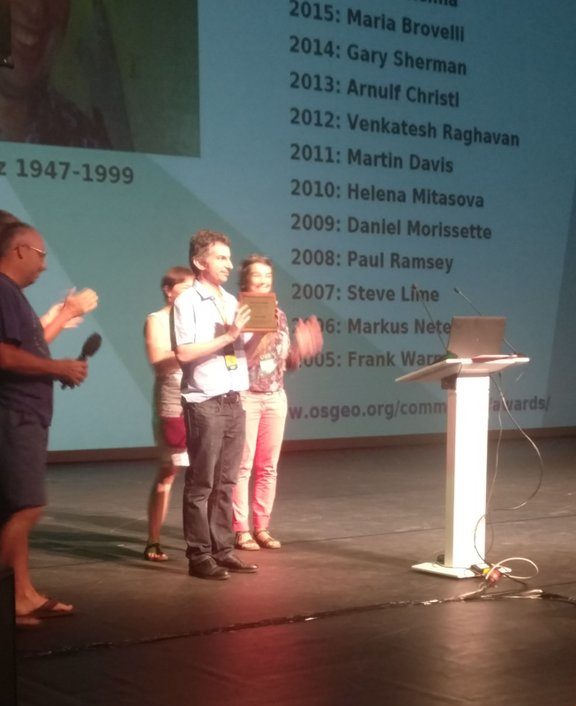 See the video of the closing session: Sol Katz Award 2019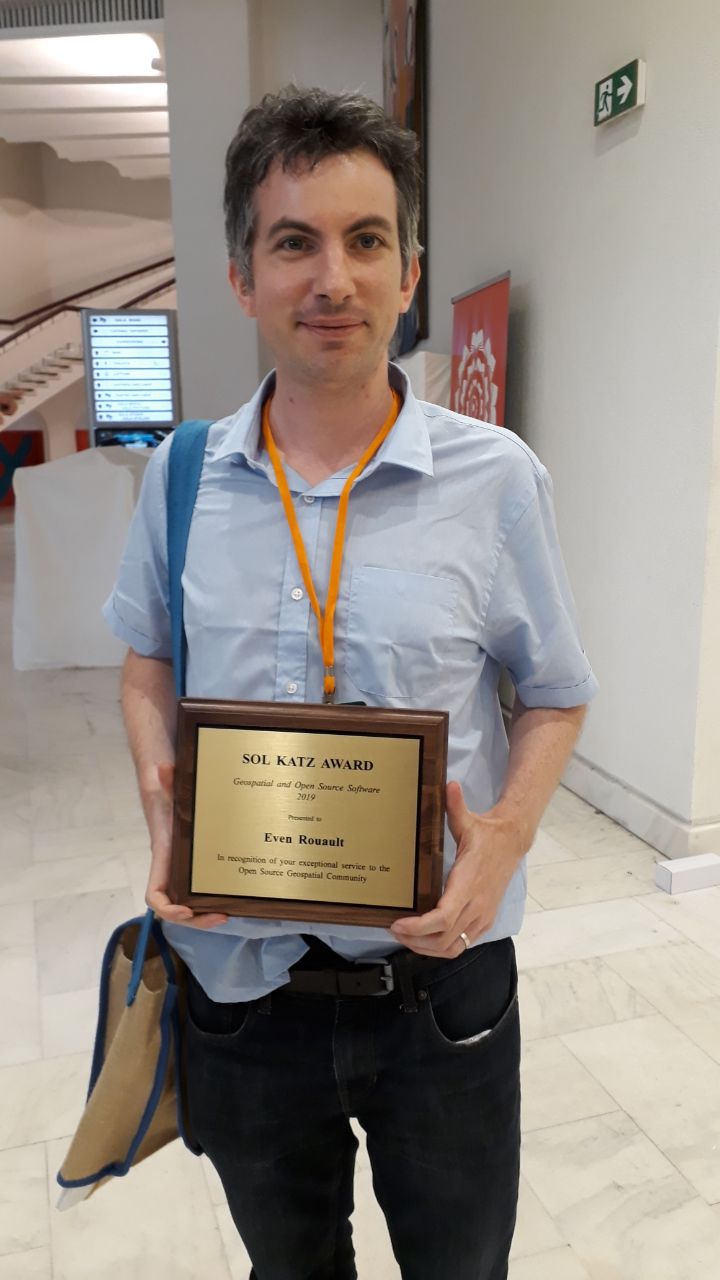 On behalf of the OSGeo communities we congratulate and thank Even for all of his contributions.
Thank you Even, you deserve this.
About the award
The Sol Katz Award for Free and Open Source Software for Geospatial (FOSS4G) is awarded annually by OSGeo to individuals who have demonstrated leadership in the FOSS4G community. Recipients of the award have contributed significantly through their activities to advance open source ideals in the geospatial realm. The award acknowledges both the work of community members, and pay tribute to one of its founders, for years to come.
Even Rouaults speech after receiving the Sol Katz Award
"It is my greatest honor to receive and accept the Sol Katz award from the selection committee and I want of course to thank all the people who nominated me, and more generally ho supported me in any way over those last years. I feel really honored to see my name added to the list of former recipients, for whom I've a deep admiration. Of course, for me, a special recognition goes to Frank Warmerdam, the founder of GDAL and its maintainer for more than 15 years, one of the founding fathers of OSGeo, and actually the first recipient of this award.
Without Frank's hard and amazing work, I wouldn't be on this stage and I'm pretty sure a lot of you would have a hard time dealing with all those crazy geospatial formats that people apparently like to invent all the time. But please, please… ! Don't create new ones anymore ! We have enough of them ! Of course, don't take my word too seriously, and that's great that innovation never stops. New times, new problems to solve, increased computing capabilities, always larger datasets to process, new ideas, new solutions.
When I think about FOSS4G, there are 2 different ways of considering it. One is that is a small niche in IT: "restricted" to geospatial, "restricted" to open source software. But on the other hand, this niche is incredibly huge. It has now been 12 years since I started to contribute to FOSS4G projects, and I'm always amazed by the number of things I don't know. And that's great. Last night, when I was thinking to what I could tell right now, I had a quick look at the PROJ mailing list, and was delighted to read a new email in which someone contributed new explanations to a ongoing discussion about all the different coordinate reference system epoch concepts. Looks like geospatial is special after all !
I would like to thank all the members of the local organizing committee for the fantastic work they did to provide us with this great conference. It is really vital to have such an event to build a community from a set of individuals who are literally spread over the whole world. We have great technical tools to collaborate on-line, exchange ideas, create code, distribute software. But having the ability to actually meet face to face is invaluable. Really. Without it, I would not have been able to exchange with many of the people I've discussed with here.
The first FOSS4G I attended was in Nottingham in 2013, and this was the first time I met with many of the other members of the GDAL and MapServer communities, to which I had already been contributed for 6 years. This is crazy when I think about it…
And to conclude, I would just say: long life to FOSS4G, to OSGeo, to its projects, its initiatives, and above all, its diverse and amazing friendly community, to which you all belong to.
Thank you."