Congratulations to Nicholas Case (San Deigo Mesa College, USA ) for winning the GeoForAll award (500 USD) for the best use of open source software at the Geospatial Technology Skills Competition 2018.
The winning Open Source Software project is Digital Archaeology in Mongolia: Visualizing the Data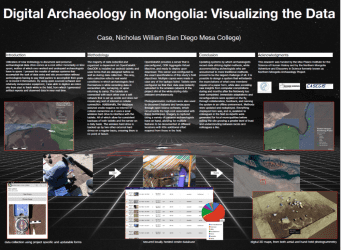 More details at http://www.sdmesa.edu/_resources/newsroom/posts/geoed_mesastudent.php
We would also like to thank Thomas Mueller, Vince Dinoto  and everyone at GeoTech for facilitating the Geo 2018 Geospatial Technology Skills Competition 2018.
GeoForAll is a simple idea powered by a global community who are all working for a selfless aim on providing Open Education opportunities for all. We request all colleagues to share the software, teaching and research resources from GeoForAll with everyone. Let us all work together to help create a world that is more accessible, equitable and full of innovation and opportunities for everyone. We look forward to working with you all for making geospatial education, software and opportunities accessible to all.